It's well past sourdough o'clock, but it looks like BetRivers is embracing the pandemic baking trend.
As Ontario online sportsbooks continue to look for ways to get a leg up, the operator announced a new brand ambassadorship with celebrated Canadian sportscaster Natasha Staniszewski. In addition to being a widely respected broadcaster, Staniszewski is known among family, friends, and fans for her baking chops.
"We couldn't be more excited for Natasha Staniszewski to be joining the BetRivers family," said Richard Schwartz, RSI's CEO, in a release.
"Her unique perspective and extensive experience covering the world of sports will be an incredible asset to our customers and will continue to enhance BetRivers' award-winning experience for sports betting enthusiasts in Ontario and beyond."
PlayCanada spoke with Staniszewski about baking, betting, and her new BetRivers Ontario gig.
High school athlete turned sports broadcaster
"Sports has been a part of my life pretty much my whole life," said Staniszewski, of the interest that would become a focus of her journey.
Staniszewski got involved with sports in elementary school. Her parents started her off at a young age, and she played through to graduation. However, she left the courts (basketball and volleyball) behind in university.
"I was too short and definitely not good enough to go on to play anything in university," she recalled.
At the time, Staniszewski thought she might want to give sports broadcasting a go, but there weren't many women doing it.
"Seemed like a crazy idea," she said.
Instead, Staniszewski earned a business degree and worked in HR and marketing. But, she soon realized she wasn't where she wanted to be. Her 'aha' moment came at 26, miserable, in the lobby at a conference.
"By that time, a few more women had become visible on TV," Staniszewski said.
"And then I saw this woman come up and do the highlights. And when I saw her, I thought that's it. She's doing it. I can [too]."
Following her dreams
After studying broadcasting at the Northern Alberta Institute of Technology, Staniszewski worked at CTV. She bounced around covering Saskatchewan towns for nearly five years before landing at CTV Edmonton.
Then in 2011, she moved to TSN, where she spent 10 years as a SportsCentre anchor. Staniszewski was even part of the first all-female duo to anchor the show. But, during a series of layoffs in 2021, she was let go.
In March of this year, Staniszewski joined Calgary Sports and Entertainment Corporation as host of StampsTV. CSEC owns four Calgary sports teams, including the Flames and Stampeders.
"I've never worked for a team before, and I've really enjoyed it," Staniszewski said.
"I'm at practice every day; I'm at all the games… It's been a learning curve for sure. But it's been really great. The team is great. The coach is great. I just love being on the sideline. It's so fun watching the games from down there and being right in the middle of the action."
Dipping her toes into Ontario online sports betting
Staniszewski is looking forward to kicking things off with BetRivers too.
She first dipped her toe in the sports betting waters last year with a partnership with ComeOn!, another Ontario online sportsbook. That relationship wound up in July.
Since taking leave of TSN, she'd stayed in contact with her former colleague, Dan O'Toole. O'Toole became a BetRivers ambassador a few months back after being let go from TSN at the same time.
She's unsure about the timing but remembers O'Toole talking up BetRivers after he signed on.
"'I've really enjoyed working with them,' he said. 'You should consider it,'" said Staniszewski. "I ended up connecting with BetRivers, and it took off from there."
BetRivers is pleased with the partnership too.
"I think she's such a perfect fit for what we're trying to do and the partnerships that are so important," Bruce Caughill, BetRivers Canada's managing director, told PlayCanada.
"We build partnerships with individuals and organizations that we think [can] help us build trust and create awareness of our brand. She's a personality that clearly has that ability and has history with Dan O'Toole… All of that just seemed like it made it a great fit."
Figuring out the recipe for BetRivers
What Staniszewski will be doing for BetRivers when her contract kicks in on September 1 is still up in the air.
That said, she knows it will involve shooting commercials, appearances at fan events, and creating online content for the BetRivers Network.
That's where the baking comes in.
"I'm no expert, but I do quite enjoy it," said Staniszewski of her baking hobby.
"And I was on Instagram every single week for a while there baking and posting recipes… I got away from it for the last few years, but I think that's probably where I'll start when I get going with BetRivers."
View this post on Instagram
She's also considering golf and travel-focused content (Staniszewski is a committed golfer), but baking will be her initial focus. Deciding what to bake is a different problem; she's not one for picking favourites.
"I just love trying out different recipes," she said. "Trying to find that perfect vanilla cake recipe or the perfect chocolate chip cookie. I just like trying different things."
Caughill will be pleased to hear about the search for the perfect chocolate chip cookie.
"I'm a chocolate chip cookie guy," he said when asked about his favourite baked treat. "I'm pretty simple that way."
New directions for Staniszewski and sports betting
Despite a long career in sports, Staniszewski isn't much of a sports bettor.
"I don't know a lot about gambling and betting," she said. "There's a lot to learn about it, is what I'm learning." She plans to "see what all the excitement is about" by dabbling in a few wagers.
"Most of the people I know who bet are all men for the most part. And obviously, they enjoy doing it… So I will probably do it a little bit more, just to see what the fuss is all about."
That leads us to women's inclusion in the sports betting industry:
"I feel like betting is not unlike a lot of other things in life that women just get left out for whatever reason," she said. "I've never been a huge better myself, but I don't even really know why. And maybe it's because the ads out there weren't really directed at me."
This ambassadorship, it seems, is a step in another direction.
She's just a quality human: O'Toole
Continuing to make the media rounds to promote the new partnership, Staniszewski appeared with her new/old colleague O'Toole on his show Boomsies this week. The pair talked about losing their dream jobs and landing on their feet.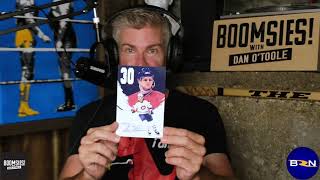 "You never really know what the future is going to hold, do you," she said to O'Toole. "Whodathunkit?"
It's hard to move on when you have your dream job and lose it. Even when you know it's probably going to be OK, Staniszewski told O'Toole.
"I don't know if anyone has ever thought they would need to find two dream jobs," she told PlayCanada. "I'm still searching for that second dream job. I guess. Like I said, I really enjoy what I'm doing now with the Stampeders… and when I moved to TSN, I didn't think that would be my dream job.
"So maybe the gig with the football team will become that, but at this point, I'm not sure. I think there might still be something out there down the road."
In the meantime, Staniszewski is excited about sticking with The Stamps and working with O'Toole again at BetRivers.
Her excitement is good news, too. Because, according to O'Toole, she's about to become a regular on Boomsies.
"That network that will remain nameless is not smart for letting you go," O'Toole said. "But, it is great because now the BetRivers Network has you, and we're so happy for it."