Canadian curling fans have a stack of new reasons to tune into the PointsBet Invitational: a million dollars worth.
PointsBet Canada launched its Sweep 16 Bracket Challenge on Tuesday. The fan-focused contest offers a cool million-dollar prize for successfully predicting the perfect bracket at the first annual PBI event. For curling, the contest is the first of its kind.
"From the outset of our partnership with Curling Canada, we have been committed to growing the game of curling," said Nic Sulsky, PBC's Chief Commercial Officer.
"To bring the next generation to the rink, we need to look at innovative ways to connect fans with the game. We know how much excitement is generated by March Madness bracket challenges, and we hope to bring that same level of interest to the PointsBet Invitational."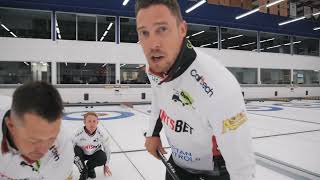 $1 million grand prize, a trip and rockin' prize packs for grabs
Curling fans can test their wits in the free-to-play challenge for a chance to win the grand prize. While there's only one top prize, the bracket's top 10 finishers will win prizes from PBC.
​​The $1 million grand prize will go to the player(s) that correctly guesses the results of all thirty 2022 PBI matches.
Additionally, the winner of Sweep 16 (in addition to the possible grand prize) will receive a VIP trip for two (passes, airfare and accommodations) to next year's PointsBet Invitational (location and dates to be announced). First and second runners-up get VIP Passes to the 2023 Invitational. 2022 PBI prize packages will go to the remaining top-10 finishers.
"This kind of prize is game-changing and unprecedented for fans of our sport," said Curling Canada CEO Katherine Henderson.
"We know curling is a dramatic game, and this contest adds to that excitement. PointsBet Canada is committed to finding new ways to engage longtime curling fans and bring in a new audience and grow the game in innovative ways. The Sweep 16 Bracket Challenge fits both of those bills, and I cannot wait to see the action unfold in Fredericton next week."
Fans can register for Sweep 16 between now and Sept. 21st at noon ET. As with most contests in Canada, it is open to Canadian residents (excluding Quebec) who are 19 or older.
Single-elimination format offers a new twist for fans and curlers
Next week's inaugural PointsBet Invitational goes down at Willie O'Ree Place in Fredericton on Sept. 21. Many of the best teams in Canada – including up-and-comers – will vie for a purse over $350,000 in the single-elimination tournament.
Traditionally, curling follows round-robin and double or triple-knockout formats. The PointsBet Invitational's single-elimination twist means fans should expect the unexpected.
With new teams and lineups in play, there are a lot of unknowns as the 2022-23 season begins. To help fans prep, Canadian men's champion John Morris will be breaking down the first-round matches in the leadup to the event. Watch the official event website and Curling Canada's social media for updates.
Canadian celebs hit the ice Friday Night
Following the "Elite Eight" matches on Friday, fans will enjoy a special Celebrity Invitational.
The four-end exhibition games will pair Canada's elite curlers with big names and local stars. Exactly who will be on the ice will come out over the coming days. But, fans can expect to see Olympians Georgia Simmerling and Stephanie Labbé, Curling Canada's Ambassadors. There are also rumours of another Olympian in the mix, once known as "World's Fastest Man."
Fans can also expect to see top-notch Canadian entertainment in The Patch throughout the week, with special performances on Friday night for a proper Maritime welcome.