Football, food, drinks and fun are on the agenda for Ontario football fans at theScoreBet's 10X Tailgate Tour when it visits the province this fall.
Dubbed the "ultimate tailgate experience," the tour kicks off in London this Sunday, with a stop at Beertown. Tailgate-goers will enjoy games, prizes, and more, delivered in a custom-fitted 45-foot truck that converts into its own fun zone.
10X Tailgate Tour to make multiple stops in Ontario
Aimed to help Ontario sports bettors "get into bet mode," the truck will travel to six Ontario cities this fall.
Each week, the 10X Tailgate Truck will sidle up to a partner bar or restaurant in a different Ontario city. Once situated, the truck transforms into a fully equipped entertainment zone. Expect lounge areas, classic tailgate games, food & drink — everything needed for a full day of football. Plus, there will be opportunities to win prizes and giveaways, including theScore Bet merch.
10X Tailgate is free to attend for those 19 and over, with exclusive spaces reserved for theScore Bet players. Keeners take note: gates open at noon.
September 18 – Beertown, London
September 25 – Rendezviews, Toronto
October 2 – Kildare House, Windsor
October 9 – Daft Brewing, Kingston
October 16 – One Eyed Jack, Oshawa
October 23 – Stonewalls, Hamilton
Additionally, fans should be on the lookout for the 10X Tailgate Truck pop-up locations around their city on Thursdays and Fridays. Spot the truck and stop by for the chance to win prizes ahead of Sunday's main event.
Tailgate Tour follows new "Get Into Bet Mode" Ads
Recently, theScore Bet also debuted its new Fall ads, a continuation of its cheeky "get into bet mode" campaign.
This time out, the spots features SNL alumni Jon Lovitz, Canadian comedian Russell Peters and Canuck Patrick J. Adams (Suits). theScore Bet worked with Toronto-based marketing agency Diamond on the campaign creative and strategy. Comedy veterans The Director Brothers, Ryan McNeely and Josh Martin, directed the spots.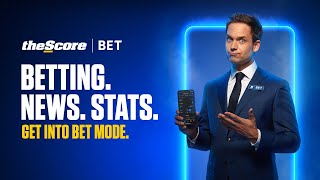 According to Aubrey Levy, theScore's senior vice president of content and marketing, the push complements the fall sports season.
"This new campaign phase is tailored toward educating fans, many of whom re-engage in the fall," said Levy.
"Specifically, we've significantly upgraded our product with increased sports betting options and have expanded our iCasino catalog [sic]. We're also leaning into our exclusive Blue Jays partnership with a baseball spot that highlights how we seamlessly merge media and betting. The engaging personalities we've selected – Jon, Russell and Patrick – each uniquely channel theScore Bet to drive home our product messaging in [an] entertaining fashion."