Tiger Woods and Dustin Johnson bring in the casual fans, but there's much more to see and bet on at the Masters. As fans in Canada are well aware, a Mike Weir can come out of nowhere with a career-defining moment on golf's biggest stage.
The Masters is a special event to win, and some players traditionally do well under the pressure. With golf betting in Canada more accessible than ever, here's how to bet on the Masters at legal online sportsbooks including live Masters odds.
Latest Masters odds
Check the live Masters odds feed below to see the latest odds from the top online sportsbooks. Use the drop down menu to change your tournament. Click on any odds to open an account and get started.
How Masters odds work
The odds for the winner of the next Masters come out soon after the current tournament is in the books. As the event draws near, you'll see Masters golf betting odds and lines for additional wagers. For Masters futures, here's what the top of the odds board might look like for a few of the favourites:
Dustin Johnson +950
Bryson DeChambeau +1100
Jordan Spieth +1150
Jon Rahm +1200
Let's say that you think this is the year that DeChambeau breaks through. You place a $20 bet on him at odds of +1100. If he pulls it off, you'll get back a total of $240, which is your initial stake plus a profit of $220. To ballpark returns on the futures board, the positive number tells you how much you'd win on a $100 bet, i.e. $950 at +950.
Beyond the outright winner of the Masters, there are plenty of other ways to bet, including the aforementioned props and live betting. Here are some additional betting options you may see:
Top finishers: You can place your bets on golfers to finish in the top five, 10, 20, etc.
Round leaders: Bet on who will lead at the end of specific rounds.
Head-to-head and groups: Sportsbooks will pair golfers or make groups of three and four. You can bet on which one will perform the best in that grouping.
For the top finishers and round leaders, the odds will work like the pre-tournament futures market. There will be Masters betting odds for all possible selections listed in descending order. For the head-to-heads and groups, odds may look like this:
Head-to-head — best finishing position

Justin Thomas +105
Jon Rahm -135
This bet works just like a moneyline bet that you'll find in other sports The odds are positive for the underdog and negative for the favourite. As mentioned earlier, positive odds tell you your expected profit on a winning $100 bet: i.e., $105 at +105. For negative odds, the number is how much you'd have to bet for a chance at winning $100: i.e., $135 at -135.
Regardless of how you want to wager on the Masters, remember to shop around at legal sportsbooks to find the best possible odds for your selections. The live odds feed above makes that easy, so be sure to check back often while getting your bets and strategy together for one of the top tourneys of the year.
Masters prop odds
Beyond picking the outright winner, there are several other ways to bet on the Masters. That includes prop bets, which are essentially side bets on things that might happen as the event plays out. Offerings vary by sportsbook, so this is a good area to shop around with.
For example, the Caesars sportsbook app in Canada may offer bets that the Unibet Sportsbook app doesn't have, while the Bally Bet mobile app may have a prop that's even more distinctive. Here are some examples of what you may see:
Will there be a hole in one during the tournament?
Who will be the leader after round one?
Top finisher among past champions.
Top British, American, European, finisher.
The top online sportsbooks will have dedicated sections for Masters prop bets. Additional options may include odds for golfers to make an eagle in a specific round, or on the leading player among those making their Masters debut. Props are a great way to increase engagement over the four-day event, so be sure to check them out.
Masters live betting
Thanks to live betting, you don't have to stop wagering after the first tee shot at Augusta. Also known as "in play" or "in game," this is a style of betting that lets you react in real time to what's happening on the course, and it has been a catalyst for increased interest in online golf betting. Here are some examples of bets you'll see:
Score on next hole by specific golfers.
Updated odds for round and tourney winners.
Various golfer and hole prop bets.
Live betting markets move quickly, but the platforms from the top legal sportsbooks like DraftKings, William Hill and BetMGM are up to the task. A sportsbook app can be a great companion as the Masters golf tournament plays out. You can stay on top of what's happening on the course from wherever you are, and also focus on bets that interest you.
Bet on Amen Corner at The Masters
A specific stretch of holes at Augusta National has become the stuff of legends, so much so that it has its own legendary moniker. Amen Corner is what the golfing world calls the 11th, 12th and 13th holes at the Masters. Fortunes can change in a hurry over the challenging three-hole swing.
It wasn't too long ago that coverage of the Masters was limited to the main feed on the channel with broadcast rights. These days, it's a much different story. There are online feeds from various broadcast outlets, including streams dedicated solely to Amen Corner.
Also, remember that you can follow along at top sportsbooks, and even focus on this daunting stretch of holes if you'd like. Once the Masters gets underway, there will be a dedicated section for live betting. Exact offerings will vary by sportsbook, but don't be surprised to see some special wagers geared toward what happens at Amen Corner.
Odds on Tiger Woods at the Masters
Tiger Woods, arguably the biggest draw in professional golf history, has five Masters wins under his belt. His first came as a youngster back in 1997, while his most recent victory was one for the ages in 2019. Unfortunately, injuries he sustained in a 2021 car crash kept him from playing.
Woods has the second-most all-time wins at the Masters, behind only Jack Nicklaus, who won six times in his legendary career. Here are Woods' five wins at Augusta National:
| Year | Winner | Runner-up |
| --- | --- | --- |
| 2019 | Tiger Woods, -13 | Dustin Johnson, Brooks Koepka and Xander Schauffele, -12 |
| 2005 | Tiger Woods, -12 (playoff) | Chris DiMarco, -12 |
| 2002 | Tiger Woods, -12 | Retief Goosen, -9 |
| 2001 | Tiger Woods, -16 | David Duval, -14 |
| 1997 | Tiger Woods, -18 | Tom Kite, -6 |
From 1997 to 2005, Woods was in the prime of his career, so the Masters wins were less than surprising. It was a different story in 2019. While he's a sentimental favourite whenever he steps on the course, few experts gave him much of a chance of winning. However, betting action pushed him up the board.
Before the tournament got underway, the odds on Woods winning were around +1400, depending on the sportsbook. Rory McIlroy, Dustin Johnson and Justin Rose were atop the board and the consensus favourites. Rose failed to make the cut, McIlroy settled for a tie for 21st, while Johnson tied for second behind Woods.
Masters odds boosts
Odds boosts at online sportsbooks are an enhancement of the existing odds for a golfer or specific wager. For example, one entrant may have pre-tournament odds to win it all of +750, but the book may boost those odds to +1000 as a special promo. Keep an eye on the promos tab at legal online sportsbooks including DraftKings Sportsbook Canada or MGM Sportsbook Canada for current offerings and whenever a big event is on tap for special deals.
The Masters is the signature event on the yearly golf calendar, and it brings in plenty of business for sportsbooks as a result. However, that doesn't mean books take that business for granted. You can expect to see plenty of promotions, including odds boosts.
Who to bet on at the Masters?
As the Masters approaches, you won't have any trouble finding opinions on how it will all shake out. While considering the thoughts of sources you trust can be a welcome addition to your handicapping routine, it's important to remember that the decisions are yours, and you should treat them as such. As you break down the field, keep the following in mind.
1. Back-to-back winners are rare at the Masters
Last year's winner will always be among the favourites next time around, but reigning champions are far from a sure thing. Back-to-back wins have happened just three times in Masters history.
Tiger Woods, 2001-02
Nick Faldo, 1989-90
Jack Nicklaus, 1965-66
This doesn't mean that you should automatically discard last year's winner, but it does mean you shouldn't consider that golfer to be a lock. The last winner certainly has a shot, but it may be time for someone else to break through.
2. Blindly betting favourites is rarely wise
Speaking of favourites, there are times when a golfer just captures the imagination of the public. Entering the last Masters, Bryson DeChambeau was the player who held that mantle. Bettors placed a ton of money on the talented youngster, but he finished in a disappointing tie for 34th place.
In fact, DeChambeau struggled to even make the cut. We point this out not to discount a player who clearly has a very bright future, but rather to reiterate a common truth in the world of betting: the public isn't always right. Do your best to avoid getting swept up in all of the hype.
3. Screen for contenders
While trends are never a guarantee of what's to come, they can provide great clues for handicapping purposes. If we look back over recent Masters history, here are a few nuggets that really stand out.
12 of the last 13 winners have been younger than 40.
12 of the last 14 winners were ranked in the world's top 30.
12 of the last 13 winners previously carded a top 30 finish at Augusta.
If we took the time to apply those filters to the Masters field, we'd walk away with a solid shortlist of viable contenders.
Top Canadian(s) at the Masters
The Masters brings together the top players in the world for a stellar four days of golf at one of the top courses on the planet. While many of the entrants are from the US, there's also some international appeal to the tournament, including with a handful of Canadian-born entrants. Here are three homegrown players who may be in the mix.
Mike Weir: The winner of the 2003 Masters has a lifetime invitation to compete at the annual event, but he hasn't come close to matching his former glory as of yet.
Corey Conners: A tie for 10th place in the 2020 Masters helped put Conners on the map. A tie for 8th at the 2021 Masters proved it was no fluke. Since turning pro in 2015, he has climbed into the top 50 on the OWGR.
Mackenzie Hughes: The winner of the Canadian Amateur Championship in 2011 and 2012, Hughes is also hovering around top 50 territory on the OWGR.
When does the next Masters tee off?
Outside of a temporary reshuffling of the PGA calendar in 2020, the Masters is an early spring event. The same will hold true for future editions of the most iconic tournament on the yearly docket. Here are some of the details on the next Masters.
Dates: April 7-10, 2022
Location: Augusta, Georgia
Course: Augusta National Golf Club
Par: 72
Length: 7,475 yards
Participants: 80+
Average temperature: High 77/Low 55
Broadcast: CBS, ESPN, TSN, CTV
Top 3 final rounds of all time at the Masters
The list of legendary performances at Augusta National is a lengthy one. A number of the game's all-time greats have sealed their legacies with wins at the Masters, while other top pros have come up excruciatingly short. A book could be written about the best final rounds in Masters history, but here are three that are more than worthy of inclusion.
1. Tiger Woods wins green jacket No. 5 in 2019
Woods entered the final round in striking distance, which instantly set the stage for a potentially memorable Sunday of golf at Augusta. He didn't disappoint. A birdie on the 15th hole put him in first place, and he would hang on to win his fifth green jacket. It was 14 years since his last victory at Augusta, breaking the previous record of 13 years in between Masters wins by Gary Player.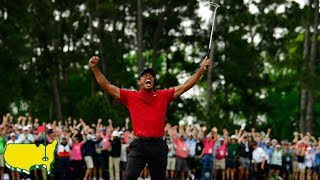 2. Jack Nicklaus wins his final Masters in 1986
At 46 years of age, it was clear that Nicklaus' legendary career was winding down. He proved that he had one more run left in the tank. Nicklaus had last won at Augusta in 1975, and hadn't won a major since taking down both the PGA Championship and US Open in 1980. His win in 1986 came in grand style, by shooting a 30 on the back nine to surge up the board and win his sixth Masters title.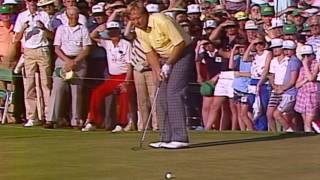 3. Charl Schwartzel stuns the world in 2011
Entering the 2011 Masters, Schwartzel was 29th in the Official World Golf Ranking. While clearly a solid pro, he wasn't viewed as much of a threat to win at Augusta, with pre-tournament odds on him checking in at +10000. Over the course of a wild final round, eight players had a share of the lead. At the end of the day, it was Schwartzel stunning the world with a score of -14 to snag the crown.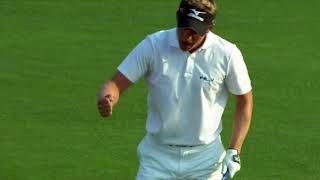 Masters FAQ
Who has won the most Masters?
Jack Nicklaus sits atop the all-time leaderboard with six Masters victories, followed by Tiger Woods with five. Here are the top three, along with the years when they won.
Jack Nicklaus: 1963, 1965, 1966, 1972, 1975, 1986
Tiger Woods: 1997, 2001, 2002, 2005, 2019
Arnold Palmer: 1958, 1960, 1962, 1964
Why a green jacket?
The jacket was initially introduced at Augusta National in 1937 for members to wear. In 1949, Sam Snead was awarded one as the winner of the Masters, and a tradition was born. Each winner since then has received a green jacket, and all champions prior to 1949 received one retroactively.
Has there ever been a back-to-back Masters winner?
Yes, this has happened three times in Masters history.
Jack Nicklaus: 1965-66
Nick Faldo: 1989-90
Tiger Woods: 2001-02
Several golfers have managed to win it twice over a three-year span, as well, a list that includes Nicklaus, Arnold Palmer, Sam Snead, Phil Mickelson, Horton Smith, Ben Hogan and Bubba Watson.
How many Canadians play in the Masters every year?
While there are specific rules for qualification at the Masters, there are no guarantees that any spots will go to Canadian-born players. You can generally expect to see a few, but that will depend on how the top Canadian pros have fared heading in. For 2021, homegrown players at the Masters were Mike Weir, Corey Conners and Mackenzie Hughes.
Which Canadians have won the Masters?
To date, Mike Weir remains the only Canadian-born player to have won the Masters. His victory came at the 2003 edition. Weir and Len Mattiace were tied at the end of regulation, carding matching scores of -7. A bogey on the first playoff hole was enough to get it done as Mattiace shot a double-bogey.
Has the Masters ever taken place on a different course?
No. Unlike golf's other majors — the Open Championship (British Open), US Open and PGA Championship — the Masters is held annually at the same venue: Augusta National Golf Club. That's a good part of the prestige and tradition of the event, but a countless number of memorable moments have certainly helped, as well.
Is the Masters harder to win than the PGA Championship or US Open?
All four of golf's majors are incredibly challenging to win, and you could make a case for each of them being the toughest of all. In terms of general skill, the debate usually focuses on the British Open and US Open, while the Masters and PGA Championship are in the debate for the most pressure-filled atmosphere. Check the latest odds for each golf major here:
Are there Masters Pro-Am odds?
Beginning in 1994, a small get-together following the Masters took place to raise some money for charity. It has evolved into one of the top celebrity pro-am events in the nation and is now known as Monday after the Masters. As of now, there are no odds available for the event at legal sportsbooks.