With a new play-in tournament followed by the traditional four-rounds of seven-game-series, the NBA playoffs are a long road to a championship. Betting on the NBA playoffs and finals, however, is much easier. NBA Finals odds come out in plenty of time for you to get bets in on your favourite teams.
Here's a quick guide to betting on the NBA playoffs and Finals, including live NBA Playoff odds from the top Canadian online sportsbooks.
NBA playoff odds
See below for current odds on NBA playoff games. Also available are overall series bets, games won or lost in series, and individual and team props per game/series. Click on any betting odds to go straight to the sportsbook and get started.
Best Sportsbooks for NBA Betting in Canada
The NBA is one of the biggest attractions at legal online sportsbooks, and operators across Canada aim to please with plenty of different ways to get in the game. Here's a trio of books that really do NBA betting right.
BetMGM Sportsbook Canada: BetMGM brings to the table a great live betting section and several innovative features. NBA bettors will have plenty of different options to explore for each game. You'll also find recurring promos like parlay insurance and profit boosts.
Caesars Sportsbook Canada: NBA games are featured prominently at Caesars. You'll find plenty of different ways to bet along with odds that are regularly on point. Before you place your bets, check out the dedicated odds boost section to explore all of the day's opportunities.
BetRivers Sportsbook Canada: BetRivers has unique features that you won't find everywhere else, such as stats and tips built into the individual game listings. There are also regular house specials for the NBA, including special parlays, combo bets, and player props with enhanced odds.
How to sign up to an online betting site in Canada
When the first online sportsbooks launch in Canada, NBA betting will be a simple three-step process:
Register: Register for an account with any legal online sportsbook through its website or app. Just fill out its registration form with various personal and account information. If you've got a code for a welcome promo, this is the place to use it.
Deposit: Deposit funds into your account using any one of the available banking methods. These will normally include everything from Interac and InstaDebit to online banking and PayPal.
Browse and Bet: Browse around the NBA betting odds and click a bet. That'll instantly create a bet slip where you can fill in the amount you want to bet and place it. Otherwise, you can continue browsing and add more bets to the same slip, or even turn multiple bets into a parlay.
Types of NBA playoff bets
Online sportsbooks allow you to bet on the NBA playoffs in a number of ways:
Futures Odds: Bet on a team to win the title, make the playoffs, or win its division or a conference final. (Check the odds feed above).
Playoff Game Lines: You can use traditional bets to place moneyline, point spread and total bets for every playoff game.
Series Bets: Bet on a team to win a series. The more specific you get with the series score, the better the NBA playoff odds you can get.
Live Betting: Bet on in-game lines and props for every playoff game as it happens.
See here for more on how to bet on the NBA.
How to bet on the NBA playoffs in Canada
Traditionally, Canadians have been restricted to provincial lotteries and limited parlay sports betting products, but the federal government gave provinces the right to change that in June 2021.
Sports betting in Ontario is open to private online sportsbooks and the rest of the country will follow. That means you'll soon be able to watch and bet on NBA playoff games from wherever you are inside the country with a sportsbook app and wireless/internet access. Previously, you could only bet on the NBA playoffs with provincial lottery products including:
ProLine (Ontario Lottery and Gaming Corp.)
Mise-o-jeu (Loto-Québec)
PlayNow (British Columbia Lottery Corp. — Manitoba and BC)
Sportselect (Western Canada Lottery Corp. — Alberta, Saskatchewan, Nunavut, Northwest Territories and Yukon)
Stadium-Bets (Atlantic Lottery Corp. — Newfoundland, Nova Scotia, Prince Edward Island and New Brunswick)
PlayNow, Stadium-Bets, and Mise-o-jue are now taking single-game bets. Alberta is adding single-game wagering to its PlayAlberta.ca gaming website, and the Saskatchewan Indian Gaming Authority (SIGA) is building an online gaming and sports betting site.
What's the most important factor in NBA Finals betting?
1. Home Court Advantage
If you consider just one factor or trend when betting on the NBA Finals, make sure it's home-court advantage. In fact, home-court advantage is so pronounced in the NBA, you can probably base much of your playoff betting strategy on it.
The truth is that NBA teams win at home at a higher clip than teams in any other sport. Home NBA teams win close to 58% of all regular season games. In the playoffs the advantage is even clearer, with home teams winning 65% of all games since the mid-1980s. If you can win 65% of your NBA playoff bets, you're likely to make a profit.
Since the top seeded teams are the ones getting the home-court advantage, seeding matters. You can throw out 2020, where the bubble meant there was no home-court advantage, and you'll see that No. 1 seeds have won 23 of the past 37 NBA championships. Plus, No. 2 seeds have won nine. Obviously, No. 1 and No 2. seeds get the home-court advantage for at least two rounds, and very often have it throughout the entire playoffs.
There are 15 series in each edition of the NBA playoffs under the current format, which equals 150 series over a 10-year span. From 2009 through 2018, the team with the home-court advantage went 111-39. In other words, the team with the home-court advantage won the series 74% of the time. That's another number worth betting on.
Finally, take a look at Game 7 stats. Tight series come down to just one game to decide it all, and having the home-court advantage in that game is a huge advantage. In fact, from 2009 through 2018, the home team won 75% of the Game 7s that occurred. That makes betting on the home team to win a Game 7 almost a no-brainer and further proves just how real the home-court advantage is.
How do the NBA playoffs work?
Normally, the playoffs consist of a seeded 16-team, four-round, seven-game-series elimination tournament. Plus, a play-in tournament in each conference to determine who gets the seventh and eighth seeds has been added.
The play-in tournament gives the seventh- and eighth-seeded teams in the final regular-season standings two chances to win one game to earn a playoff spot. That means the nine or 10 seed must win two consecutive games to get a playoff spot. There will be a "seven-eight game" with the winner earning the seventh seed. Plus, a "nine-ten game" with the winner advancing to a game against the loser of the seven-eight game. The winner of that game gets the eighth seed.
After that, the seeding will be set for the traditional NBA playoffs. Each series follows a 2-2-1-1-1 format, with the home-court advantage going to the team with the best regular-season record. Tiebreakers start with head-to-head records, then go to division winners, best division winning percentage, and best conference winning percentage.
Playoff series winners advance through a seeded bracket until Eastern Conference and Western Conference champions are crowned. These two teams then meet in the seven-game NBA Finals.
Key NBA playoff dates:
End of May: Play-in games
May to July: NBA playoffs/Finals
How to stream the NBA playoffs in Canada
Most playoff games air on Canadian TV either on TSN or Sportsnet. In addition, ABC carries all of the NBA Finals games in the US, and the channel is available on cable and satellite services in Canada.
You can also watch every playoff game online by signing up for the NBA League Pass subscription service through NBA.com.
Recent NBA Finals results
Here's how the NBA Finals have shaken out over the past 10 years:
2021: Milwaukee Bucks 4-2 over Phoenix Suns
2020: Los Angeles Lakers 4-2 over Miami Heat
2019: Toronto Raptors 4-2 over Golden State Warriors
2018: Golden State Warriors 4-0 over Cleveland Cavaliers
2017: Golden State Warriors 4-1 over Cleveland Cavaliers
2016: Cleveland Cavaliers 4-3 over Golden State Warriors
2015: Golden State Warriors 4-2 over Cleveland Cavaliers
2014: San Antonio Spurs 4-1 over Miami Heat
2013: Miami Heat 4-3 over San Antonio Spurs
2012: Miami Heat 4-1 over Oklahoma City Thunder
2011: Dallas Mavericks 4-2 over Miami Heat
Toronto Raptors' playoff history/results
The Toronto Raptors have made the NBA playoffs for seven consecutive years heading into the 2020-21 season. Here's how they've fared:
2020-2021: Missed playoffs
2019-20 Round 1: 4-0 over the Brooklyn Nets; Round 2: 3-4 loss to the Boston Celtics
2018-19 Round 1: 4-1 over the Orlando Magic; Round 2: 4-3 over the Philadelphia 76ers; East Championship: 4-2 over the Milwaukee Bucks; Finals: 4-2 over the Golden State Warriors
2017-18 Round 1: 4-2 over the Washington Wizards; Round 2: 0-4 loss to the Cleveland Cavaliers
2016-17 Round 1: 4-2 over the Milwaukee Bucks; Round 2: 0-4 loss to the Cleveland Cavaliers
2015-16 Round 1: 4-3 over the Indiana Pacers; Round 2: 4-2 over the Miami Heat; East Championship: 2-4 loss to the Cleveland Cavaliers
2014-15 Round 1: 0-4 loss to the Washington Wizards
2013-14 Round 1: 3-4 loss to the Brooklyn Nets
How many teams have won back-to-back NBA championships?
Thirteen NBA teams have won consecutive titles, including four that won three straight and one with eight straight. Here are those 13 teams:
2017-2018 Golden State Warriors (2)
2012-2013 Miami Heat (2)
2009-2010 Los Angeles Lakers (2)
2000-2002 Los Angeles Lakers (3)
1996-1998 Chicago Bulls (3)
1994-1995 Houston Rockets (2)
1991-1993 Chicago Bulls (3)
1989-1990 Detroit Pistons (2)
1987-1988 Los Angeles Lakers (2)
1968-1969 Boston Celtics (2)
1959-1966 Boston Celtics (8)
1952-1954 Minneapolis Lakers (3)
1949-1950 Minneapolis Lakers (2)
Who is the biggest underdog to ever win the NBA Championship?
It's hard to call the defending NBA champions an underdog, but the 1994-95 Houston Rockets were the lowest-ranked seed ever to win a championship. After winning the title in 1994, the Rockets looked like anything but a lock to repeat part of the way through the next season. Even after they traded Otis Thorpe for All-Star guard Clyde Drexler, Houston continued to struggle and display chemistry issues. After the trade, the Rockets finished 17-18. They ended up third in their division with a 47-35 record, making them the No. 6 seed in the Western Conference.
In the playoffs, Houston beat the No. 3-seeded Utah Jazz after being down 2-1. Then, the Rockets beat the No. 2-seeded Phoenix Suns in seven games to advance to the Western Conference Finals, despite not having home-court advantage in Game 7. Houston then beat the No. 1-seeded San Antonio Spurs in six games to advance to the NBA Finals. In the Finals, they swept the Orlando Magic to become the lowest-ranked team to win an NBA title in history.
3 biggest comebacks in NBA playoff games (in the modern era)
The NBA playoffs have included some incredible comebacks in recent years, including these three, which have to be considered among the top NBA playoff comebacks ever:
2018: Kevin Durant was already a Warrior, but Russell Westbrook and Paul George helped the Oklahoma City Thunder erase a 25-point deficit to defeat the Utah Jazz 107-99 in Game 5 of their first-round playoff series. This marked the sixth-largest comeback in NBA playoff history.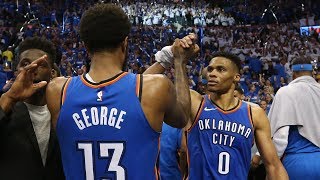 2017: LeBron James and the Cleveland Cavaliers stormed back from being down 26 against the Indiana Pacers in Game 3 of their first-round playoff series. The Cavs won 119-114 and ultimately went all the way to the NBA Finals, where they lost to the Golden State Warriors. This game was the fourth-biggest comeback in NBA playoff history.
2019: The Los Angeles Clippers came back from being down by 31 points with less than 20 minutes left to defeat the Golden State Warriors 135-131 at Oracle Arena in Oakland. It tied their first-round playoff series at 1-1, but the Warriors still went on to win. This was the biggest comeback in NBA playoff history.