Despite three Stanley Cup Finals appearances, the Canucks have yet to etch their names on the Cup. Do the Canucks have what it takes to become contenders again in 2022-23?
The Canucks had a so-so campaign in 2021-22, finishing fifth in the Pacific Division, but just missing the cut for the playoffs. In the off-season, the team lost 10 players via free agency and acquired seven new players. That amounts to a lot of change for the roster.
Fans can have their ultimate say about the group by placing a bet on how Vancouver fare.
With single-game betting now available in Canada, NHL betting odds are the talk of the country. Here's a look at Canucks betting odds, from odds on tonight's game to odds on the Canucks to make the playoffs or win the Stanley Cup.
Today's Canucks odds: Moneyline, Stanley Cup, Props
See below for current Vancouver Canucks odds as posted at legal online sportsbooks. You can also see the latest Canucks futures odds (Stanley Cup, conference, division) and select player props. Click on any odds to go directly to the sportsbook, open an account and start betting.
Tonight's Canucks game lines
Elias Pettersson prop odds
Next Up: Arizona Coyotes
Game Day: Thursday, April 13, 2023
Game Time: 7:00 PM ET
TV Channel: ESPN+
Location: Tempe, Arizona
Arena: Mullett Arena
Betting Insights For The Coyotes Game
On average, the Canucks put up 3.3 goals in a game (13th in league), and the Coyotes give up 3.6 (24th).
Vancouver is -27 overall in goal differential this season, 23rd in the NHL.
The Canucks commit 3.7 penalties per game, 16th in the league.
Vancouver's Last 10 Games
| Overall Record | ATS Record | O/U/P | AVG Total | AVG Goals Scored | AVG Goals Allowed |
| --- | --- | --- | --- | --- | --- |
| 5-3-2 | 5-5 | 3-7-0 | 6.5 | 2.70 | 2.70 |
Betting Lines And Odds For Canucks Vs. Coyotes
Canucks vs Coyotes Betting Information

| Favorite | Favorite Moneyline | Underdog Moneyline | Spread | Total |
| --- | --- | --- | --- | --- |
| Canucks | -157 | +130 | VAN -1.5 | 6.5 |
Recent Meetings With The Coyotes
| Date | Favourite | Home Team | Spread | Total Goals | Result |
| --- | --- | --- | --- | --- | --- |
| 3/16/2023 | Canucks | Coyotes | -1.5 | 6.5 | 3-2 ARI |
| 12/3/2022 | Canucks | Canucks | -1.5 | 6.5 | 3-2 VAN |
Canucks Player Insights
Elias Pettersson has been a major contributor over 79 games for Vancouver this season, collecting 38 goals and 63 assists (101 total points).
Andrei Kuzmenko's offensive effort has resulted in 39 goals and 33 assists.
Tyler Myers has served a team-leading 74 penalty minutes from 30 penalties (19th in the league).
Thatcher Demko has a 14-14-4 record between the pipes this season. He has saved 904 total shots with a .901 save percentage, and has allowed 99 goals (3.2 goals against average).
Pettersson has a plus-17 to lead Vancouver.
Injuries For Vancouver Vs Arizona
| Player | Pos. | Injury | Status | Start Date |
| --- | --- | --- | --- | --- |
| Filip Hronek | D | Shoulder | Out | 3/30/2023 |
| Vasily Podkolzin | RW | Undisclosed | Out | 3/25/2023 |
| Christian Wolanin | D | Lower Body | Out | 3/23/2023 |
| Noah Juulsen | D | Lower Body | Out | 3/21/2023 |
| Travis Dermott | D | Undisclosed | Out | 2/17/2023 |
| Oliver Ekman-Larsson | D | Lower Body | Out | 2/15/2023 |
| Ilya Mikheyev | RW | Knee | Out | 1/27/2023 |
| Tanner Pearson | LW | Hand | Out | 11/8/2022 |
| Tucker Poolman | D | Migraine | Out | 10/20/2022 |
Canucks Player Props
| Player | Prop Bet | Over/Under | Payout | Average Per Game |
| --- | --- | --- | --- | --- |
| Player | Prop Bet | Over/Under | Payout | Average Per Game |
| --- | --- | --- | --- | --- |
Canucks Upcoming Games
Canucks Upcoming Games

| Date | Opponent | H/A | Time | TV Channel |
| --- | --- | --- | --- | --- |
| Thu, Apr 13 | Arizona Coyotes | A | 7:00 PM | ESPN+ |
Powered By Data Skrive using data from
How to bet on the Canucks
| | Moneyline | Spread | Over/Under |
| --- | --- | --- | --- |
| Vancouver Canucks | +135 | +1.5 (- 190) | Over 5.5 (-115) |
| Toronto Maple Leafs | -160 | -1.5 (+ 155) | Under 5.5 (-105) |
Here is a rundown of some odds and sports betting terms you should know when betting on the NHL at Canadian online sportsbooks including PointsBet Sportsbook Canada and MGM Sportsbook Canada:
Moneyline: Placing a moneyline bet means you are betting on which team will win the game. The negative number indicates the favourite as well as the amount you must bet to win $100. The positive number indicates the underdog and the amount you could win for every $100 bet. Using the moneyline above, you would bet $160 on the favoured Toronto Maple Leafs in order to win $100. If you bet on the underdog Canucks to win the game, you would wager $100 to win $135.
Spread or puck line: Spread odds are based on the margin of victory in the game. Because hockey tends to be a low-scoring affair, the standard pregame spread — commonly known as the puck line — is +1.5/-1.5. Whenever you wager on the puck line, you are betting on the favourite (-1.5) to win by two goals, or the underdog (+1.5) to either lose by one goal or win outright. The numbers in parentheses are the odds you use to calculate how much you'd win based on your wager.
Over/under or totals: Oddsmakers set a combined number of goals for both teams to score in the game. You bet whether the total will be under or over that number. The .5 as part of the number eliminates any chance of a tie or "push." In parentheses are the odds to calculate how much you'd win based on your wager.
Live betting: Place bets on a game while it is in progress. Live betting odds shift throughout the game.
Props: Prop betting, or propositional betting, allows you to wager on specific players and events within the game that may not be directly related to the game's final outcome. An example of a common hockey prop bet is on which player will score the first goal of a game.
Futures: These are wagers on a long-term outcome, not something from tonight's game. Some common NHL futures odds include Stanley Cup odds, what teams will win a conference title, and major NHL award odds (Hart Trophy odds, Rocket Richard odds etc.).
Parlay: A parlay is a sports bet that combines several wagers together. In a parlay bet, every individual bet that forms the parlay must be successful in order for the entire parlay to win.
Push: A push is a bet where the final result is a tie. In the event of a push, you'll receive your stake back and not lose any of the money you wagered.
More NHL team odds
Check out the odds feed above for daily puck lines, moneylines and totals on the Canucks' upcoming matchups. For daily game lines and futures odds for more Canadian NHL teams, check the pages below:
Canucks in the Stanley Cup playoffs
The Canucks' first significant playoff run was in 1982. Led by legendary forward Stan Smyl, their Cinderella run ended in the Stanley Cup Final with a four-game sweep at the hands of the heavily favoured New York Islanders.
The 1990s marked the Canucks' return to prominence. With a roster highlighted by offensive stars Trevor Linden and Pavel Bure, in 1994 Vancouver made its second trip to the Stanley Cup Final. This time, the Canucks were bested by the New York Rangers in a demoralizing 3-2 loss in Game 7.
Other major talents have since suited up for the Canucks, from Markus Naslund to Roberto Luongo to Henrik and Daniel Sedin, but they've never quite managed to put all the pieces together to win a championship. Their last appearance in the Stanley Cup Final was in 2011. The result was another Game 7 loss.
Canucks draft picks & top prospects
The Canucks have a long history of success finding gems in the later rounds of the draft, including Kevin Bieksa (third round, 2001) and Alexander Edler (third round, 2004). But their greatest draft-day steal to date has to be their selection of legendary Russian forward Pavel Bure in the sixth round of the 1989 entry draft.
Here are some of the Canucks' notable selections from recent drafts:
| Year | Name | Position | Country | Round Selected |
| --- | --- | --- | --- | --- |
| 2021 | Danila Klimovich | C | Belarus | 2nd |
| 2020 | Joni Jurmo | D | Finland | 3rd |
| 2019 | Vasily Podkolzin | RW | Russia | 1st |
| 2019 | Nils Hoglander | LW | Sweden | 2nd |
| 2018 | Quinn Hughes | D | USA | 1st |
| 2017 | Elias Pettersson | C | Sweden | 1st |
| 2016 | Olli Juolevi | D | Finland | 1st |
| 2015 | Brock Boeser | RW | USA | 1st |
Canucks franchise leaders
Games played: Henrik Sedin (1,330)
Goals: Daniel Sedin (393)
Assists: Henrik Sedin (830)
Points: Henrik Sedin (1,070)
Penalty minutes: Gino Odjick (2,127)
Power play goals: Daniel Sedin (138)
Shots: Daniel Sedin (3,474)
Hat tricks: Tied — Markus Naslund and Tony Tanti (10)
Goalie games played: Kirk McLean (516)
Goalie wins: Roberto Luongo (252)
Saves: Kirk McLean (12791)
Shutouts: Roberto Luongo (38)
Canucks coaching staff
The Canucks are led by Head Coach Bruce Boudreau, who took over in the 2021-22 season from Travis Green, who had been with the team since 2017. Boudreau is supported by the Canucks' assistant coaches: Scott Walker, Kyle Gustafson, Brad Shaw and Jason King. Ian Clark is the goaltending coach, and Darryl Seward (video) round out the staff.
Past Canucks coaches
Since joining the NHL in the 1970-71 season, the Vancouver Canucks have had 19 head coaches. Alain Vigneault (2006-2013) has the longest tenure to date, serving as the head coach for 540 games. Vigneault is also the Canucks' winningest head coach, with 346 victories.
Here are the Canucks' records under some of their most successful head coaches:
| Coach | Tenure | Regular Season | Playoffs |
| --- | --- | --- | --- |
| Alain Vigneault | 2007-2013 | 313-170-57 | 33-35 |
| Marc Crawford | 1999-2006 | 246-221-62 | 12-19 |
| Pat Quinn | 1991-1994 & 1996 | 141-111-28 | 31-30 |
Vancouver Canucks arena
The Canucks play in Rogers Arena, a multi-purpose venue located in the heart of downtown Vancouver that opened in 1995. Prior to moving into Rogers Arena, the Canucks played out of the Pacific Coliseum.
While primarily used for Canucks home games, Rogers Arena is also the home base for the Vancouver Warriors of the National Lacrosse League and regularly hosts concerts and other sporting events, including hockey during the 2010 Olympic Winter Games.
Rogers Arena was the former home of the NBA's Vancouver Grizzlies until the team relocated to Memphis, Tennessee, for the 2001-02 season.
Name: Rogers Arena
Former names: General Motors Place (1995–2010); Canada Hockey Place (February 2010)
Address: 800 Griffiths Way, Vancouver, British Columbia
Owners: Aquilini Investment Group
Capacity: 19,153 (hockey)
Groundbreaking: July 13, 1993
Opening date: Sept. 21, 1995
Construction cost: $110 million
Canucks play-by-play and radio
Rogers Sportsnet is the official TV broadcaster of the Vancouver Canucks. John Shorthouse provides the play-by-play for the Sportsnet Pacific broadcast team, alongside colour commentator John Garrett. Dan Murphy serves as the studio host and the rink-side reporter for home games.
On the radio, the Canucks' flagship station is Sportsnet 650 AM. The radio team features play-by-play announcer Brendan Batchelor, colour commentator Corey Hirsch and studio host Satiar Shah. Listeners can also tune into Canucks broadcasts on HD receivers at 96.9 FM-HD3, as well as on the Sportsnet app, the Radioplayer Canada app or by streaming live on Sportsnet.ca/650.
How to stream Canucks games
You can pay to stream Canucks games through Sportsnet NOW. If you have Sportsnet as part of your TV package, you'll have the option to sign into the streaming service via your TV provider.
Canucks games featured on CBC for Hockey Night in Canada are available to stream for free on cbcsports.ca and through the CBC Sports app.
What is the Canucks' logo, mascot and jersey?
The Vancouver Canucks made their 1970 NHL debut sporting blue, green and white jerseys. Their logo at the time depicted a stylized hockey stick against an ice rink that formed the letter "C" for Canucks.
For their 1978-79 season, the Canucks made the switch to their infamous black, gold and orange colour scheme. The logo became a flying "V" for Vancouver. This design was tweaked over the next several seasons and, in 1989, the team introduced a flying skate logo.
The last major change came in 1997, when the team unveiled a logo that featured a Haida-styled orca jumping out of an ice-covered letter "C". Subtle updates have continued, but the Canucks currently sport jerseys with the orca logo in the team's current colours of blue and green.
Fin the Killer Whale is the mascot of the Vancouver Canucks. He is an anthropomorphic orca who debuted during the 2001-02 season. Fin is one of the few NHL mascots who plays the position of goaltender. 
Three most heart-breaking Canucks moments
Below are three of the most crushing moments for the Canucks and their fans in recent history:
1 — Game 7 of the 2011 Stanley Cup Final
2011 marked another Stanley Cup Final for the Canucks and another seven-game series loss. Playing against the Boston Bruins, the Canucks blew a 3-1 series lead and fell 4-0 in Game 7. As in 1994, the loss sparked rioting in Vancouver.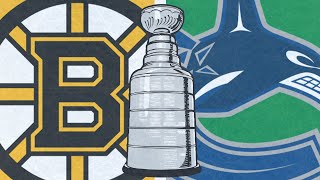 2 — Game 7 of the 1994 Stanley Cup Final
In the Canucks' second trip to the final round of the Stanley Cup, they faced off against the New York Rangers. The Canucks bounced back from a 3-1 deficit only to lose by one goal in Game 7, the most agonizing of margins. Fans rioted in the wake of the Canucks' defeat.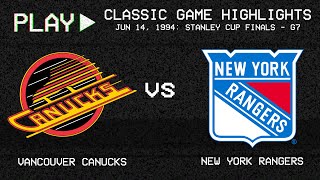 3 — The Sedins say goodbye to Canucks fans in their final home game
It was the end of an era when the legendary Sedin twins, Daniel and Henrik, retired at the end of the 2017-18 season. Drafted together in the 1999 NHL entry draft, they spent all 18 seasons of their NHL careers as Canucks.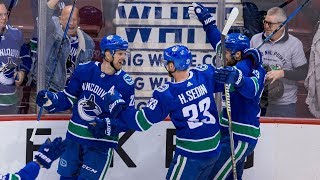 Canucks franchise by the numbers
$725 million: The estimated franchise value of the Vancouver Canucks, in US figures.
10: Forbes ranked the Canucks as the 10th most valuable NHL franchise in 2020.
$207 million: The amount paid by the Aquilini Investment Group to purchase the Canucks in 2005, in US dollars.
1: The Canucks are still in search of their first Stanley Cup win.
6: The Canucks have retired six jerseys to date: Pavel Bure (10), Stan Smyl (12), Trevor Linden (16), Markus Naslund (19), Daniel Sedin (22) and Henrik Sedin (33).
$5.875 million: The average annual value of the three-year contract signed by Brock Boeser in 2019, in US dollars.
5: The number of consecutive 30-goal seasons Markus Naslund had as a Canuck, the most in franchise history to date.
474:  The number of consecutive sellouts of Rogers Arena for Vancouver Canucks games.
11: The number of seasons that the sellout streak lasted for the Canucks, running from 2002 to 2014.
$6: Cost of buying a hot dog to eat during a Canucks game at Rogers Arena.
2008: The year Roberto Luongo was named as the 12th captain in Canucks' history. It was the first time since the 1947-48 season that a goalie was given the captaincy.
60: The most goals scored in a season by a Canuck player. Pavel Bure reached this milestone in back-to-back seasons (1992–93 and 1993–94).
22 and 33: The numbers worn by Daniel and Henrik Sedin, respectively.
2 and 3: The Sedins' mythical numerology was sealed in the final home game of their careers when Daniel (22), scored the winning goal with an assist from 33 (Henrik) and 23 (fellow Swede Alexander Edler), at 2:33 of OT.